Brown Butter

Emelie Chhangur and Berlin Reed



"Brown Butter," was published in Active Cultures'
Digest, Issue 12, June 2022
(edited by Safia Siad).
Image:
Courtesy of Berlin Reed.
Chef Marissa Leon-John and curator Berlin Reed. Photo by Zoë Cousineau, courtesy of Berlin Reed.
Abby Nowakowski, Block Party Graphic. Courtesy of Emelie Chhangur.
__
Over the past two decades, curator, writer, and artist,
Emelie Chhangur
has emerged as a leading voice for experimental curatorial practice in Canada, celebrated for her process-based, participatory curatorial methodology, the commissioning of complex works across all media, and the creation of long-term collaborative projects performatively staged within and outside gallery contexts.
As Director/Curator of the Agnes Etherington Art Centre, Chhangur is currently working on Agnes Reimagined: an institutionally-engaged project that uses architecture as a material and the curatorial as a methodology to build new infrastructures for experimental museological practice. This work follows a significant curatorial career at AGYU, where Chhangur lead the reorientation of AGYU as a civic, community-facing, ethical space driven by social process and intersectional collaboration, founded the residency program, and received 25 OAAG Awards in writing, publishing, exhibition-making, and public and education programming.
Distinguishing herself as a cultural worker dedicated to questioning the social and civic role of the public institutions of art, Chhangur developed a curatorially-engaged approach to working across cultural, aesthetic, and social differences through a practice she calls "in-reach." In 2019, Chhangur won OAAG's inaugural BIPOC Changemaker Award and in 2020, the Hnatyshyn Foundation Award for Curatorial Excellence.
Berlin Reed
is an independent curator, author, and chef based outside of Tiohtià:Ke//Montréal. Raised near Seattle, Reed is inspired by his German and Southern U.S. roots and a passion for culinary and agrarian traditions. His work explores expressions of Black and Queer* identities, celebrating the brilliant ingenuity held in both cultures as a form of decolonial resistance. Rooting into the language of gastronomy, in 2009, Reed began to establish himself by curating multi-dimensional pop-ups in artistic ecosystems from San Francisco to Brooklyn to Montreal - culminating in the 2013 publication of his memoir The Ethical Butcher: How Thoughtful Eating Can Change Your World. This nomadic chef's life led him from NYC to Montreal, where he married a data scientist, made a kid named after Stokely Carmicheal and Audre Lorde, and settled on a small piece of land by the river near Kahnawá:ke.
Reed co-founded Montreal immersive dining and consulting collective, Atelier Etta in 2019. In 2020, he began work with DESTA Black Youth Network, where he leads an innovative business incubator using the pop-up format to develop young entrepreneurs and provide meals for those experiencing food insecurity.
If I am to be consumed, my sweetness will elude your palate. A strangling mouthful, a suffocating swallow — I will be a bitter molasses.
— Berlin Reed

Emelie: Hello, Berlin. Here we are, sitting in the upstairs of the Etherington House at the Agnes Etherington Art Center in Kingston. You're here visiting in the last stages of planning for your epic Brown Butter project as we ourselves embark on a parallel project of rehoming Agnes and I thought we could talk a bit about your project, the plans for this house, and the role of food and hospitality in transformational change.

Berlin: I'm so ready for it.

Emelie: Excellent.

Emelie: So Brown Butter has been something that you've been thinking of for a long time. And maybe for our readers, I should probably say that we ourselves have known each other since about 2013, and I find it interesting that we met at a conference. But then we scurried off to sit at a picnic table, so already we were in this sort of sociality, hospitality, eating thing outside of the structure of the academy, and then we found ourselves together again, realizing parallel but intersected projects that we've always wanted to do.

Berlin: Yeah, sure. Well, I always sort of romanticize the way we met, art romance in the classical sense. It was such an epic, magical moment for me, meeting you at that symposium. There was a thread between our work that I was immediately interested in. Meeting you and understanding what you were doing in the art world as a curator contextualized my work differently. In our chats that weekend, you reflected my work back to me in a way that was both validating and made me understand my work as curatorial practice. I had been so deep in the work for years, and working so far outside the system, that this framing had never occurred to me. Once I considered myself as a curator, it made me see a much bigger landscape that I could start to explore and sort of led me to commit more fully to this way of creating. Up until then, I was really aligned with being outside of the system and my ideas of decolonization meant working outside of institutions. And then I met you and I saw somebody who was doing actual real decolonization within the structures and that was new.

Emelie: You're bringing Brown Butter to the Etherington house, which is a Georgian colonial structure. Tell me a bit more about Brown Butter's operations and what futures it imagines. Perhaps start a bit with Brown Butter and its origins for you as a chef and creative?

Berlin: Well, you'll maybe recall that weekend we met, I was presenting my work as a chef and writer. At the time I was really into writing about and researching foods of the African diaspora and was playing around a lot with yam recipes. That was the beginning of the shift toward more conceptual work and away from what I called my "renegade" days, when I traveled for years with my backpack and knives following food where it led. Once I started DJing to extend the number of gigs I could book as I toured, my life became this mix of food education, conceptual pop-ups, DJing/party promotion, and writing that culminated in the memoir I published in 2013 [Soft Skull Press]. So, the seeds of Brown Butter really started way back in those years when I was in that galavanting Queer nightlife amalgamation, life, you know? For me, it was always like, what is the biggest space I could take over? What is the maximum interpretation of this way of collaborating or bringing food people and art people together? I was always into curating spaces that had groups of people who wouldn't usually be together—like Queer DJs and farmers from rural Oregon in a space together over dinner—and I was really trying to see what those conversations would be like and what kind of relationships would come up.

So, the way this would work was already brewing back then. I remember after that symposium back in 2013, I sent you like five elaborate proposals for these massive ideas I had after our conversations. And then fast forward to 2020, when you opened up the door to the Etherington house. From the second I walked in, it was like, oh, we can fill this out. This is the home for this project, the literal home for it. This is the space and the fact that it's this Georgian [Victorian], old colonial house, you do feel this energy of oppression and all this that you can tap into. For me, I felt immediately elated and invited in because I knew I was here to change it.

Emelie: Right. Me too!

Berlin: And I know that you had invited me here to change it, and I am then inviting other people to come in and help me change it. And so it doesn't feel like walking into this space that's telling me what the history is and I have to fit around or feel weighed down by it. To me, I feel like, oh Agnes, welcome home, because we're going to be here for a minute and it's going to look a little bit different. I'm actually thinking of leaving literal notes to Agnes. I'm still kind of playing around with how I want to do that. This is her home. And she took care of it and she loved people here, and she invited people into her home and she celebrated here. And that's beautiful. I don't want to destroy that. But also, she wasn't supposed to be here in the ways that she had an unquestioned access to this space and land. Because of the colonial context she was able to have this house in, all of those warm stories are not just good, regardless of how she was as a person, right? We are here to sort of right the historical wrongs of this home by being Black and Indigenous people in this space–inviting other people in to create with, to feed and eat together, moving our bodies around in this space that we would not have been invited to when Agnes was here.




Emelie: I often think about this because the story of this institution is about how Agnes Etherington gave her house to Queen's University. This bequest was to create an art centre in order to "further the cause of art and community." And so we can determine what that means today. What does furthering the cause of art and community mean in the 21st century? We're right to change the protagonists, but we haven't actually done anything different to the home. The home is still this social space. It's still a space of domestic production. And I mean domestic in the sense of like hanging out and preparing meals and having informal conversations. That is to say, not necessarily programmed because those things often happen organically because it is "of the house." And so bringing together artists and chefs for Brown Butter fits together well in Agnes's "home." Do you think that we can build on the foundation of Agnes' proposition, recast the protagonists, and maybe change the dramaturgy of this house? Do you think that the context of the home and the context of food is an important driving force to that change?




Berlin: Absolutely, and to change it in the way that you want to change it—absolutely. Because you want to make it a home again. Hmm. And I think when you're dealing with hospitality and bringing in food, the way that food connects people and community, it just automatically kind of opens a part of your brain and your heart in this certain way. I think you couldn't really revert to being home without there being a return to some sort of food association. By having Black and Indigenous people leading this return, we are upending practices of servitude that would have been a part of Victorian hospitality. I plan to cleanse the entire house by blasting bass-heavy music for hours while going through a number of rituals, smoking medicinal herbs, and moving my Black body through every corner of the House. I see us taking over the house completely for those few weeks.

Emelie: I wondered if you could talk a little bit about your invited guests to the Etherington house, the artists and chefs, and what they are "dishing up" for their collaborations; what we might see or experience?

Berlin: Oh wow, OK. So. Inviting people into the home. We're going to introduce you to the family, right? So you've got me, and we're going to walk into this space and invite you into Agnes' home, reimagined and re-envisioned and melanated. I'm also really happy to know some of the chefs and artists personally and through life and have the chance to meet others through this project.

So I'm going to give a rundown. Let's see. How should we do this? We'll do the chefs first because that helps me keep it in order. So we have Marissa Leon-John. When I started to conceptualize Brown Butter, she was really one of the early catalysts to formulate the actual project. She came to me through the Chef Incubator program that I direct in Montreal, so I met her sort of through that side of my professional life. I just saw that as a chef, she had the ability to sort of transcend the commercial side to this artistic side. That's Marissa. She's really great. And she is represented by an agency based in Toronto that represents BIPOC food folks, called Quell. So once I had Marissa on board, her agency connected me with another chef. His name is Bashir Munye.

So Chef Bashir is our second chef as well as a food educator. A lot of his work is around Pan African cuisine as well as historical diasporic African foodstuff. It's right up my alley, really following the way the foods have traveled with the diaspora around the world and the way that African peoples, when in these different places in the world, have interacted with Indigenous foods and sort of reacted and changed recipes in order to cook things they are familiar with.

Emelie: Traditions transform over time.

Berlin: Exactly. And then the third chef is Rawan Ali, a baker and artist based in Ottawa. She does visual art as well as performance and spoken word. Those are the three chefs.

And then, as I've organized it in my head, I'm going to go by who's working with whom- Starting with Marissa. Marissa is collaborating with three artists. She is working with Jade Fair, a BC-based visual and sound artist who will be presenting a mixed-media sculpture and leading our block party's creative direction. Next up, Marissa is working with an artist named

Rye

, a drag performer and video artist multimedia artist, based in BC as well. Lastly, Marissa is partnering with Kama la Mackerel, a Montreal-based artist. They do spoken word-based performance as well as writing. So that's Marissa and her artists.



Then next up, Bashir is working with artist Syrus Marcus Ware on an installation about soil and Afro-futurism. The other artist Bashir is collaborating with is Kosisochukwu Nnebe. I'm really, really interested in their project. They are thinking through the ways that cassava was used as a poison against slave masters. When they brought that to the table, my mind was blown and it was like, this is exactly why I wanted to do this project. This is what putting artists and chefs together does! It's like oh okay, cassava poison.


Emelie: Yes, like the creative use of cassava's properties! So these are pretty powerful artist chef combos!




Berlin: Yeah, we can go to so many places with this, you know. Kosisochukwu is doing video, she's writing, she's making curtains. Bashir is making fake fingernails because that's how the poison was delivered. So I mean, they're doing so much with this with just one project. It's wild.

The last super team is with Rawan. We have Gloria C. Swain, who is a Toronto-based visual artist. Then there's Debbie Ebanks, who brings along two other artists, Adrian Kaghee and Rebecca Tabobodung of the Odeiman Runners Club collective and they have an interactive map with AR markers. They also have this virtual dinner table conversation that you sit down to and listen to over food.

That's the family. There's a lot going on.

Emelie: When we were talking about the plans for the Block Party, one of the programs for Brown Butter, I couldn't help but ask why museums have these distinctions between public programs, youth and kids, family programs, exhibition-making– where everything is siloed in parts. We could just call all that work "block party" because at the block party, there is art, there is music, there are art-making stations, and families are welcome. It's doing all the things that museums have somehow managed to reduce into isolated programs and which keeps audiences separate. To me, the block party is like a new name for museum practice!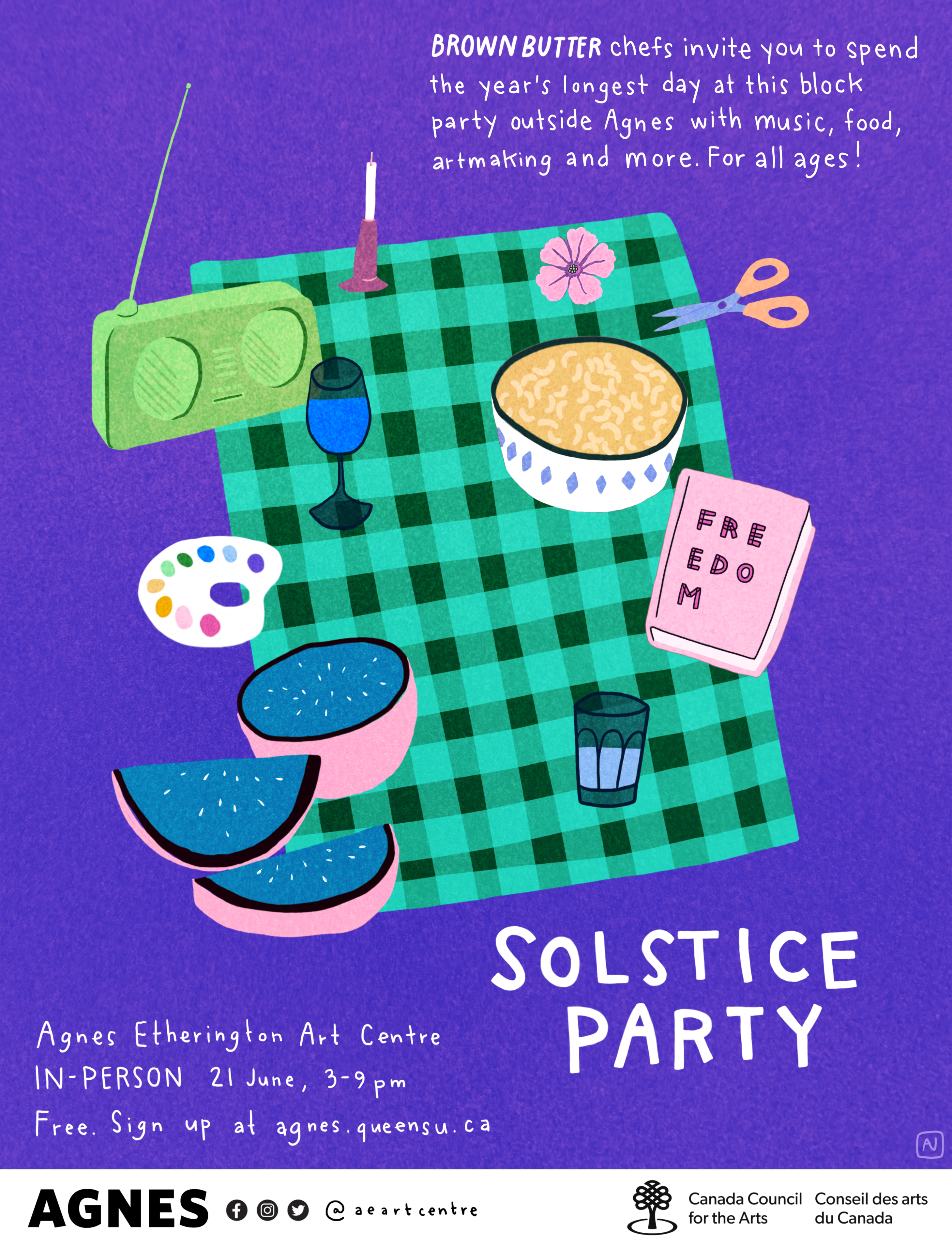 Berlin: Yeah, because it's the way it should be. You know, a real block party in the realest sense, it's a neighborhood of people blocking off the street. It's everyone who lives there–from the little babies running around to the old folks who can't leave their porch, but they come outside the door to take in the energy and watch the kids playing and watch the games and all of these things, you know? And also the thing I love is the way that the tone changes through the day. And with the block party program for Brown Butter, we've talked about being open to that. During the day, it's very much kid friendly, you know, family vibes, family mood. The music is maybe a little bit different, the alcohol isn't out yet. And as the day goes on, there's a time when the kids start disappearing from the backyard and it's just grown-ups, the kids go off to bed, they go off to auntie's house or whoever's keeping the kids. And now the party is going to continue, but shift. The music is going to change and the bar is open and we will continue having the summer party. And I mean, that's what it should be. There's not a cut-off in the formal sense that you're only allowed here in this zone at this time and this day is sectioned off for kids and all the rest of the time is for adults. It's like, everyone is invited to one comprehensive, organic event. You just decide what your mood is and then you attend what makes sense to you.

Emelie: Yeah, beautiful. And that makes it truly accessible and authentically poly-vocal.

Berlin: Mm hmm. Exactly.

Berlin: I cannot thank you enough for having me and Brown Butter here. I am endlessly thankful and grateful and excited and humbled and elated!

Emelie: We are going to have a lot of fun.

___


Brown Butter is a conversation between Black artists living and working in Canada that is presented at Agnes Etherington Art Centre in the Etherington House, Kingston, Ontario in 2022. This multi-sensory, inter- and multi-disciplinary arts installation pairs Black chefs and artists to develop an edible installation and related artifact––an audio experience, functional sculpture in which the food is served, a short film or photo book to be viewed while consuming the installation. Speaking a variety of artistic languages to define Black expression, Brown Butter is a succulent environment created to challenge the viewer through an enveloping sensuality.


Over six weeks, Brown Butter's team of artists will fill every capacity for human perception. Directly inhaling, imbibing, and ingesting these works, viewers of Brown Butter infuse their very cells with the intentions of the artists. These consumed works become building blocks of every human who experiences Brown Butter, making this a lifelong group performance.

Brown Butter was curated by gastro curator Berlin Reed.

---