Red Plum Hero
Zakiya Mckenzie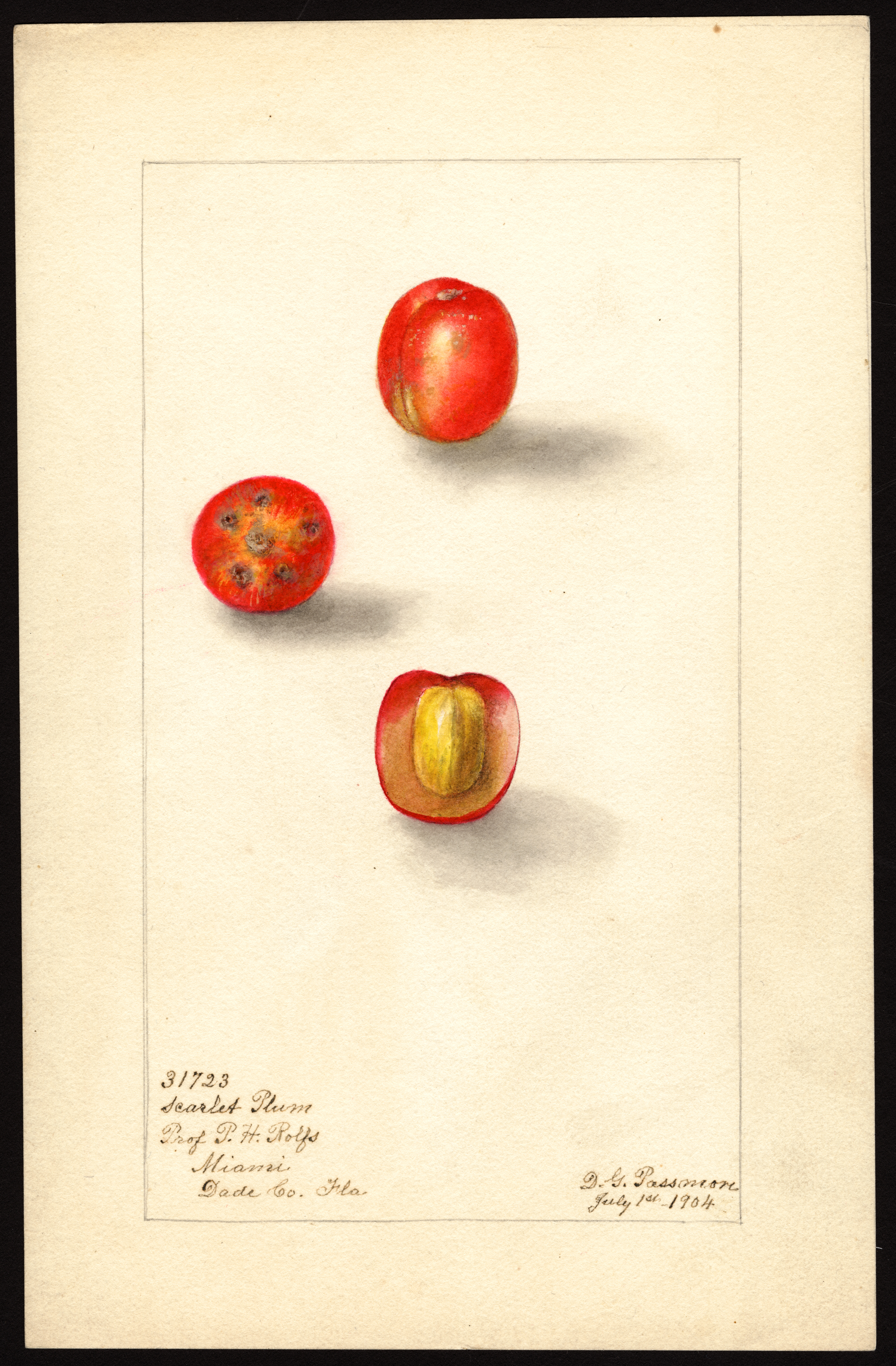 "Red Plum Hero" was published in Active Cultures'
Digest, Issue 14, November 2022
(edited by Nneka Jackson).
Images:
Image of the Scarlet Plum variety of red mombins (scientific name: Spondias purpurea), with this specimen originating in Miami, Dade County, Florida, United States. U.S. Department of Agriculture Pomological Watercolor Collection. Rare and Special Collections, National Agricultural Library, Beltsville, 1904.
Plum-Gulf Ruby,
daleysfruit.com.au.
Spondias cytherea - fruit, Ton Rulkens, Flickr, May 13, 2013.
Red Coat Plum or Governor Plum,
silhouettes1979.com
, Pinterest.
Horse Chestnuts, Gerald Englad, Geograph.com, October 9, 2013.
Horse chestnut fruit, Eastville Park, Derek Harper, Geograph.com, September 7, 2013.
Spondia mombin (Hog Plum) sur un papier blanc, Adoscam, Wikipedia, July 18, 2021.
__
Zakiya McKenzie
is a PhD candidate with the Leverhulme Trust-supported
Caribbean Literary Heritage project
at the University of Exeter researching Black British journalism in the post-war period. Zakiya is a writer and storyteller and was the
2019 writer-in-residence for Forestry England
during its centenary year. In Bristol, she was
2017 Black and Green Ambassador
and is a
volunteer at Ujima Community Radio station
. She regularly leads nature, art and writing workshops, including one on Caribbean storytelling for primary schools. Her work has featured at the Cabot Institute for the Environment at the University of Bristol, the Institute for Modern Languages Research at the University of London, the Hepworth Wakefield Gallery, the Free Word Centre, at Cheltenham Literature Festival, on BBC's Woman's Hour, Farming Today and Inside Out West. She has written for Smallwoods Magazine, the Willowherb Review and BBC Wildlife Magazine.
Once upon a time, Kingstonians from all walks of life would delight themselves on a hot weekend with a trip to the healing waters of Rockfort mineral bath on the eastern outskirts of the city. Kingston city — with its rattling cars overtaking long lines of traffic, its ever-present reggae syncopation always somewhere within earshot, its packed corner cook-shops exuding heart-warming scent trails throughout the day — has no real public swimming pool where folks can escape to and submerge into watery weightlessness. Maybe that's what you get in a Caribbean capital and a country where every parish touches the sea. So, in those days, the saline mineral bath at Rockfort offered sweet respite for people from all over town. The water was fed by a stream flowing from Rock River high in Long Mountain above, and the garden burst open before the eye in a frenzy of colourful foliage. A most picturesque scene. The mineral water was nourishing and rich; visitors collected it in bottles and buckets along the way and brought it home to pat the aches and ailing limbs of family members praying for help from the holy wash.


Excitement would overcome your average Jamaican child on hearing that they were going to 'the mineral'. If your family planned meticulously and you knew about the trip a week ahead, you mentioned it at school at least 3 times a day, with greater frequency towards the end of class on Friday. That is to say, it was the highlight of my little world and there was hardly a better treat. One trip was unforgettable, not because of the comfort of the pool, but because of the new flavours introduced from the garden. We arrived at Rockfort that Sunday and the scent was overpowering. You can only love or hate it, for the fruit carries a subtle rancid smell that can upset a weak stomach. In this case, it activated my mother's instinct to forage.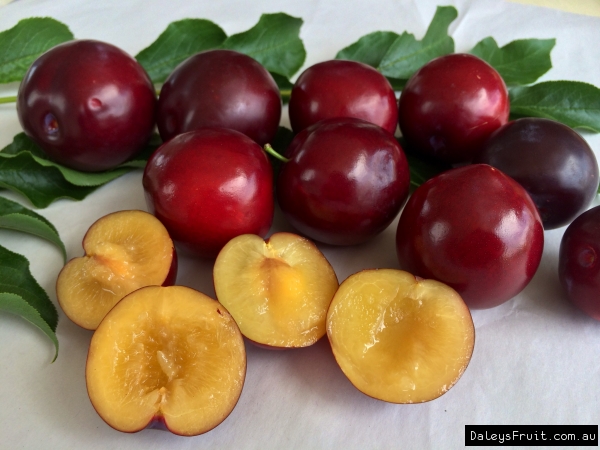 "Stop. Do you smell that fruit? I'm not sure what it is, but I'm going to find out," she said with a mischievous smile.
These were the days long before a smartphone could have confirmed her concern in less than thirty seconds. My mother looked at the tree with an inquiring face but turned to the pool and we went to our fun. When it was time to return, her excitement was palpable.
Now, regular people do not just eat from unfamiliar trees, but this womanis a woman who reads the encyclopedia for fun in her spare time. It was not unusual for her curiosity to translate to the material world. It made her seem to be the most daring adventurer to a seven-year-old who was still free to wonder at all the possibilities of life.
"Not today please, you don't actually know what it is," said my Dad, aware of what was about to unfold.
"Tasting it is exactly how I'll find out!" she replied, as if it were the best plan.
We children debated for half a minute but adamant she was. With the theatrics of a Shakespearean actor, she gave us each a hug and then chose the perfect branch. My mother inspected with great interest until she found a bunch to her liking. Before picking them, she turned to face us and blinked as if long enough for a prayer. Then, quicker than we could see, she had plucked and bitten into one of the plums. I winced and covered my eyes but peeked through my little fingers to see if she was still there. My mother pulled her head back and looked at the fruit before going back for more. Like Eve eating the forbidden apple, my mother devoured a handful (spitting the seeds as evidence at the base of the tree) before remembering that we were there. She looked up and laughed a bellyful laugh and ate two more.
"Relax, they're plums, I used to eat them when I was a child. Here, try."
And with that, all was well in the world.
——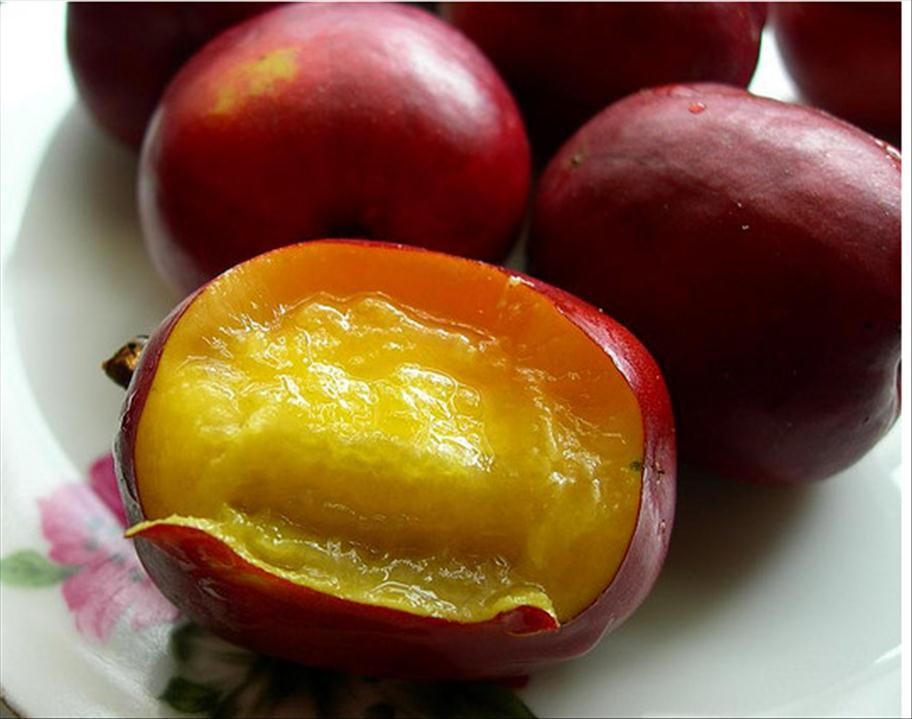 One bite into a Jamaican plum and the juicy, yellow pulp awakens your mouth into a dance of pleasure. The plum flesh takes on the golden hues you see when you think of the tropics — idyllic, syrupy, and bright. The plum skin is generally red or sunshine-orange, with lashings of purples and greens. The skin can be amber like its pulp, however, you run the risk that the yellow-skinned plum tree you find is not just a plum tree but instead, a Hog plum tree. Otherwise known as the Gully plum, the Hog plum is a little larger and carries firm, mustard-coloured fruit. The problem with them is that they are mostly filled with dreadful worms. Only pigs are found eating Hog plums in Jamaica, hence the name. If you find a rare Hog plum tree without worms, revere it for beating the odds.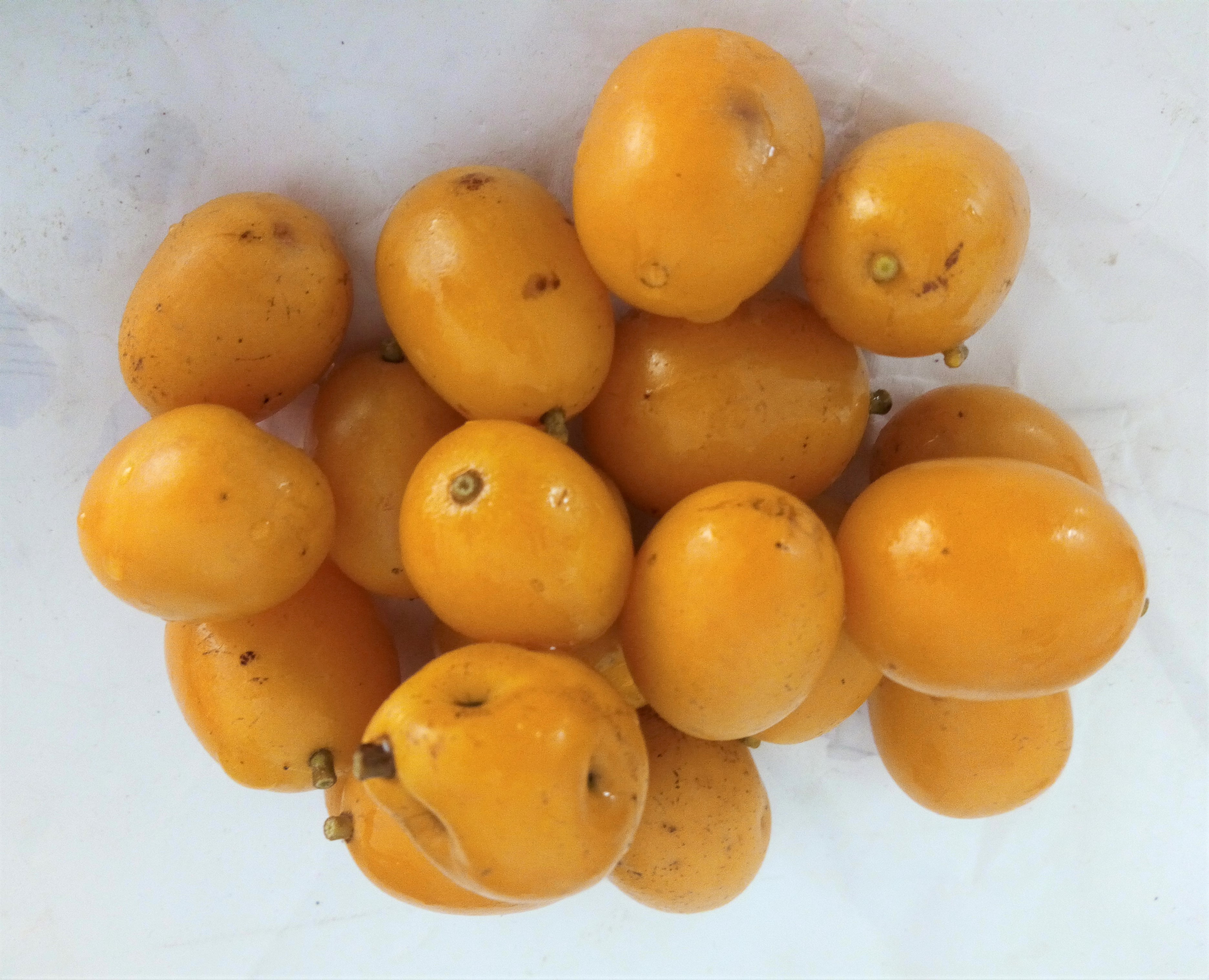 It can get confusing. In other countries, what they refer to as hog plum, Jamaicans call June plum. Jamaican hogs eat June plum. Jamaican people eat June plum too. In England, when I see the Prickly Horse chestnuts fallen under a tree in autumn, it looks like how my mother would leave a June plum clean, as if there were never any sour, tart flesh on the spikey frame. (Horses do not eat horse chestnut, despite the name.)
And yet, June plums, Hog plums, Red-Coat plums are not even really plums. In reality, they are part of the cashew family of flowering plants — spondias dulcis, spondias mombin, and spondias purpurea, respectively. But names and plants get tangled and grafted when they move around the world. Though the Jamaican Red-Coat plum is not from China, you will hear it referred to as Chinese plum in some parts of the island. Old-time people call it Red-Coat plum because it takes the colour of the old British military regalia from colonial times. Still, others call it Spanish plum or Leather-Coat plum - and these are only the names in Jamaica.
Whatever you call it, the Jamaican Red-Coat plum has never really been en vogue. Photographers do not flock to print them on tourist postcards like varieties of mango, and they do not instantly trigger feelings of a seaside daydream like sugary pineapple. Instead, the inconspicuous and unassuming little plum comes every year like the secret candy of the gods. When you find them for sale, buy them on the spot — from a produce stall on a winding country road or from a seller zipping between cars at a traffic light. You can taste-and-buy, but buy you must, for the plums gleam like gold in clear plastic bags, and it will only bring joy.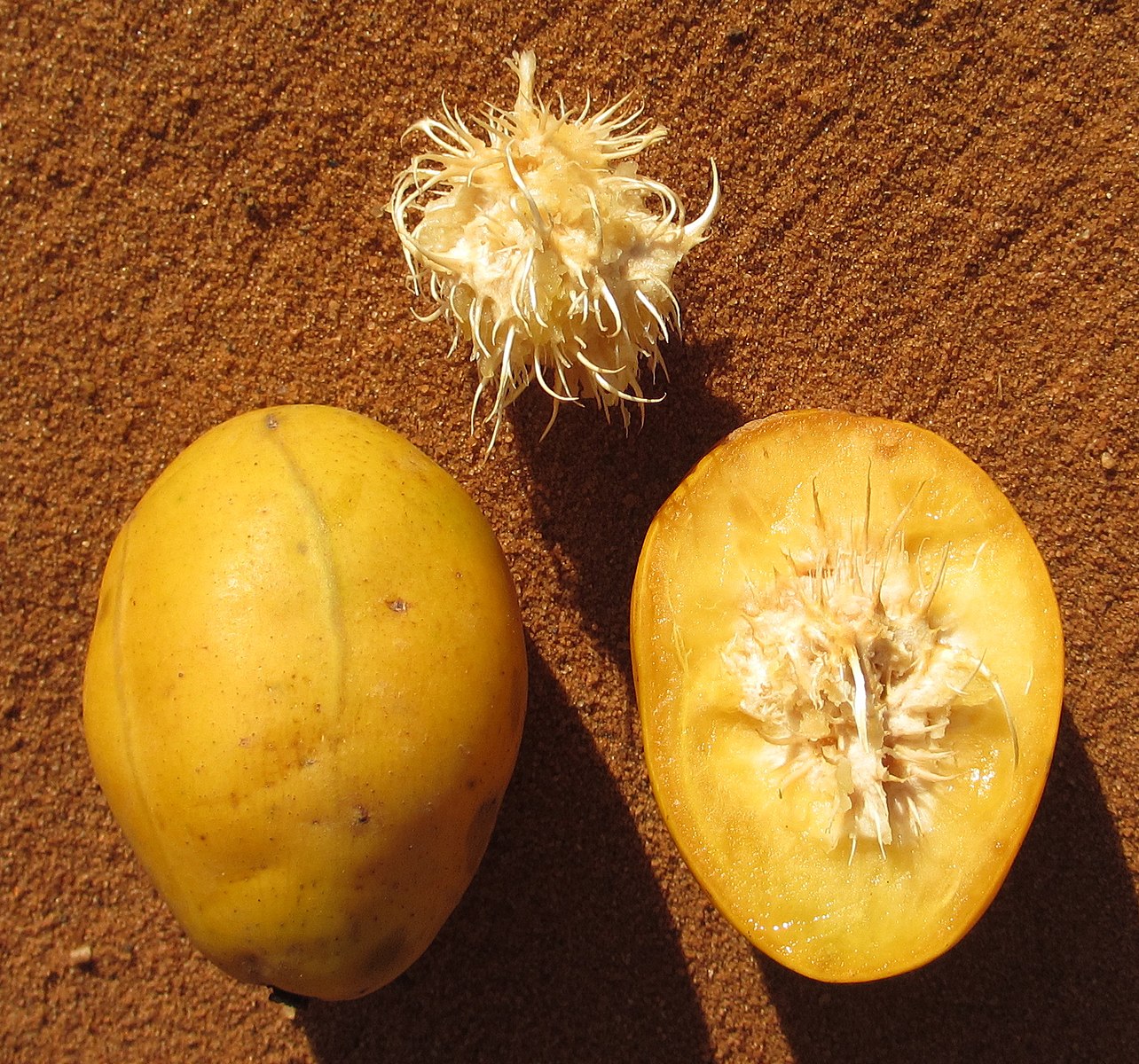 ——

Intrepid as she really was, my mother just knew her trees. Having left the island as a little child, she returned to stay as an adult, reliving the sweetness of the fruit of her youth. It took me years to realise that she already knew what the fruit in the garden was, and the whole performance was a pantomime for us children. It is one of those moments where you raise your parents to Bravest of Them All, a reminder of the lightness of innocence and less complicated times. I doubt any of my family members remember it, but to me, Jamaican Red-Coat plums are the fruit of the greatest heroes. I never miss a chance to stop and smell the fruit.


---